We are honored that Pat Tanumihardja has allowed us a sneak-peak of this recipe from her soon-to-be-published book, The Asian Grandmothers Cookbook: Home Cooking from Asian American Kitchens, (Sasquatch Books, October 2009). Recipe excerpted with permission from Sasquatch Books.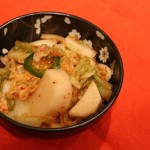 CABBAGE KIMCHI
Sour-sweet and spicy with nutty overtones, kimchi is a delightful explosion of tastes and textures in the mouth. The methods of making kimchi are just as varied as the ingredients that go into it, but Chinese cabbage is the most common. Serve well-chilled as a side dish or in bibimbap.
Time: 30 minutes plus fermenting
Makes: 1/2 gallon (12 to 16 servings as part of a multicourse family-style meal)
1 large head (about 3 pounds) firm Chinese cabbage
3 Kirby cucumbers, or 2 lean Korean cucumbers, trimmed and quartered
lengthwise (or cut into bite-sized pieces, if you prefer)
1 small daikon radish, peeled and cut into bite-sized pieces (half-moons are fine) (2 cups)
2 tablespoons coarse sea or kosher salt
2 Korean green chilies, cut diagonally into 1/4-inch-thick rings
1-inch piece fresh ginger, grated (1 tablespoon)
1 clove garlic, minced
1 green onion, white and green parts, cut into 1/2-inch lengths
2 tablespoons Korean red pepper powder (coarse grind)
1 tablespoon sugar
Rinse the cabbage and halve it lengthwise. Cut the core out with a V-notch and discard. Cut the cabbage lengthwise again into quarters and cut the leaves crosswise into strips 1- to 1 1/2-inches wide.
In the largest nonreactive bowl you have, mix the cabbage, cucumbers, and radish together and sprinkle evenly with the salt. Let the salted vegetables sit for 3 hours, tossing every half hour. The salt will draw out water from the vegetables.
Add the chilies, ginger, garlic, green onion, red pepper powder, and sugar, to the salted vegetables. Mix well with your hands (be sure to wear rubber gloves to avoid chili burn).
Transfer the pickled vegetables to a 1/2-gallon jar or divide among several smaller quart or other jars, pressing down firmly to remove any air bubbles and cover the vegetables with as much liquid as possible. Leave about 2 inches at the top to give the vegetable room to breathe.
Wrap the mouth of the jar with plastic wrap before screwing on the lid to prevent odors from escaping. Keep at room temperature overnight, then refrigerate for up to 3 weeks.
Pat's Notes:
When making kimchi, use non-reactive materials (glass, stainless steel, or ceramic) for all cooking utensils, measuring spoons, bowls, and containers. Do not use plastic as it picks up colors. For storage, use sterilized wide-mouth glass or ceramic jars with screw-top lids.
This kimchi recipe lends itself well to personal taste preferences. Add or take away the hot chilies and red pepper powder, or add more garlic if you desire. Feel free to experiment with the spicing to please the family palate.