Chinese Cucumber and Carrot Pickles
We are honored that Pat Tanumihardja has allowed us a sneak-peak of this recipe from her soon-to-be-published book, The Asian Grandmothers Cookbook: Home Cooking from Asian American Kitchens, (Sasquatch Books, October 2009). Recipe excerpted with permission from Sasquatch Books.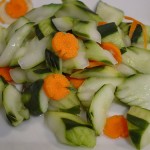 CHINESE CUCUMBER AND CARROT PICKLES
Traditionally, prepared ginger syrup is used to sweeten the pickling brine, but because it's not commercially available in the United States, maple syrup is the next best thing. While the diagonal cuts in the cucumber are mostly for aesthetics, they also allow the vegetable to soak up flavor from the brine; skip this step if you're in a rush. Serve it as a palate cleanser for any meat dish.
Time: 15 minutes plus standing and bringing
Makes: 4 to 6 servings as a condiment
2 large (10- to 12-inch-long) cucumbers
1 small carrot, peeled and thinly sliced
1 teaspoon salt
1 cup distilled white vinegar
1/2 cup water
3 tablespoons pure maple syrup
2 tablespoons sugar
1 thin coin fresh ginger
Pinch of cayenne pepper (optional)
Using a vegetable peeler or sharp paring knife, peel the cucumbers, leaving alternate strips of green. Cut each cucumber lengthwise into four spears and remove the seeds using a teaspoon.
Lay each spear skin-side up on a chopping board horizontal to your body.
Feather the edge closest to you by making diagonal cuts no more than halfway across the width of the spear from left to right on one side. Repeat with the remaining spears. Cut the cucumber crosswise into 1/2-inch diagonal slices.
Place the cucumber and carrot in a colander over the sink and sprinkle with the salt. Let sit for 30 minutes.
In a small bowl, mix together the vinegar, water, maple syrup, sugar, ginger, and cayenne. Microwave on medium-high for 1 minute. Stir the brine, making sure all the sugar has dissolved. Alternatively, heat the brine in a small pot over low heat on the stove until the sugar dissolves. Taste and adjust the seasonings if desired. Cool completely.
Rinse the cucumbers and carrot and drain. Place in a nonreactive container with a tight-fitting lid and pour the cooled brine over. Cover and refrigerate for at least 2 hours, or preferably 12 hours. Drain, reserving the brine, and serve.
Variation: If you don't have maple syrup, just use more sugar.
Pat's Notes:
The pickles will keep for up to 1 week in the refrigerator.
Add chopped red bell pepper for more color, or red Thai chilies for heat.
The brine can be reused once for another batch of pickles.