Strawberries + Vinegar = Shrub, A Beverage Revelation
Pickled strawberries.
As I type this post, I'm sipping on a shrub. (Don't worry; no backyard foliage is involved.) A shrub is a colonial-era sweet and sour syrup made from fruit, sugar, and vinegar believed to have been brought to the U.S by British settlers.
19th-century writer Oliver Wendell Holmes references the shrub in his 1861 novel Elsie Venner: A Romance of Destiny:
"...but I do feel thirsty' said the poor lady, 'and I do think a glass of srub would do my my throat good: it's dreadful dry. Mr.Peckham, would you be so polite as to pass me a glass of srub?"
The poor lady in question had the right idea; the shrub is a genuine thirst quencher and whets that whistle like nothing else. I had my first taste at a recent CAA meeting when fellow canner Kimberly McKittrick shared a jar of pickled strawberries that she had put up the previous summer. One sip and we were all hooked: Slightly sweet but really more spice-forward and a tad tangy, the syrup and its pickled fruit are a revelation.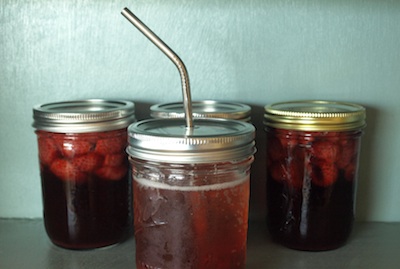 Carbonated strawberry shrub.
We've seen historical references to the shrub as a mixer for alcohol, lemonade and water of the tonic-ed, carbonated, and still varieties. No doubt it is a pre-cursor to soda pop, which unfortunately has taken over the world and made the shrub obsolete. In fact, the shrub is part of Slow Food USA's Ark of Taste, a list of food and drink items that have faded into obscurity in the light of industrial agriculture.
The recipe below comes from Wright Eats, written by Seattle-based food bloggers Dawn and Eric Wright. What follows are details for how to make your own shrub.
P.S. I am considering trying this with raspberries and blackberries, what with brambles on the horizon here in the Pacific Northwest.
Spiced Pickled Strawberries

Adapted from The Complete Book of Pickling, by Jennifer MacKenzie
Ingredients
6 pints strawberries, hulled (preferably on the smaller side and just a touch under-ripe)
3 cups granulated sugar
1 teaspoon kosher salt or 3/4 teaspoon fine sea salt
1/2 teaspoon ground cinnamon
1/4 teaspoon ground cloves
1/8 teaspoon ground allspice
2 cups cider vinegar
Puncture strawberries with fork tines and cut any large ones in half.
Combine remaining ingredients together in a large saucepan. Bring to a boil, stirring until sugar and salt are dissolved. Remove from heat and let cool slightly. Pour over prepared berries.
Cover the berries and let stand at cool room temperature for at least six hours or overnight.
Prepare water bath canner, jars and lids.
Re-heat berries, gently stirring occasionally until strawberries are heated through but still hold their shape.
Gently spoon strawberries and hot pickling liquid into hot jars, leaving 1/2 inch headspace. Remove air bubbles and adjust headspace as necessary. Wipe rim and place hot lid on jar, screwing band down until fingertip-tight.
Place jars in the canner and return to a boil. Process for 10 minutes.
Turn off heat, remove canner lid and let jars stand in hot water for an additional 5 minutes.
Transfer jars to a towel-lined surface or a cooling rack and let stand undisturbed until completely cool, about 24 hours. Check lids and refrigerate any jars that are not sealed.
Makes approximately 6 pints.
Use Up What You Put Up: Strawberry Shrub
2-3 tablespoons pickled strawberry syrup (and whole fruit if you like)
12 ounces sparkling water or club soda
Stir together in a tall glass, with or without ice, and enjoy. Add more syrup to taste.
Cheers!
P.S. I'm fairly certain that vodka and soda would love to meet pickled strawberries.